Description
DYMATIZE ISO 100 is simply muscle-building fuel. If your goal is gaining muscle size and strength, then ISO100 is your perfect workout partner. Loaded with muscle-building amino acids, DYMATIZE ISO 100 can support even the most serious resistance-training programs.
PRODUCT BENEFITS
25 Grams of Protein from Hydrolyzed 100% Whey Protein Isolate*
1g Sugar or Less
2g Carbs or Less
<1g Fat
120 Calories or Less
<0.5g Lactose
KEY INGREDIENTS
DYMATIZE ISO 100 delivers 25g of protein from hydrolyzed 100% whey protein isolate,* 11.8g of EAAs, including 5.5g BCAAs and 2.6g Leucine per serving. ISO100 undergoes a multi-step microfiltration and purification process that preserves essential muscle-building protein fractions. This process also removes excess carbohydrates, fat, lactose, and cholesterol. ISO100 is made with pre-hydrolyzed protein sources to ensure fast digestion and absorption.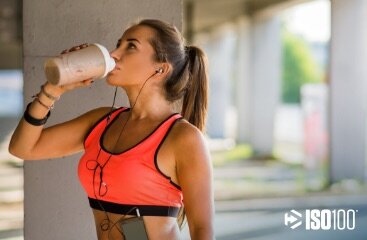 SUPPORTS YOUR GOALS
The goal for many people after tough workouts is to feed muscles quickly. DYMATIZE ISO 100 is a HYDROLYZED whey isolate protein powder, which means it undergoes a process called "hydrolyzation." This process makes ISO100 super-fast digesting, fast-absorbing, and ensures it gets to your muscles quickly. ISO100 contains 1g of sugar or less, 2g carbs or less, and 120 calories or less per serving. It supports high protein diets, low carb diets, keto diets, or whatever your nutrition goals may be.
GOOD TO KNOW
ISO100 Hydrolyzed 100% Whey Protein Isolate* was formulated for fast absorption and easy digestion, making it easy on the stomach. It is a delicious protein that mixes easily, with nothing more than a spoon in water, milk, or your favorite beverage. Try using a blender to blend ISO100 with delicious fruits and vegetables to make a seriously fantastic shake. Mix ISO100 in your oatmeal, fruit smoothies, nut-butters, or bake with it to boost the protein and flavor of your favorite recipes!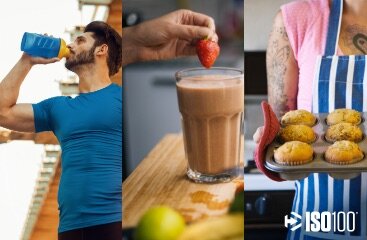 ---
ABOUT THE BRAND
Over 25 years of leading through research and honoring all athletes through world-class nutrition. Real science is always the foundation of our product development. Our products are manufactured in GMP Certified facilities to ensure the highest-quality ingredients are used and Informed-Choice Certified.